MU Stop Traffic group will host dance marathon, movie night
September 21st, 2009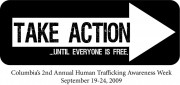 WHAT: The second annual Human Trafficking Awareness Week will be held in Columbia to raise awareness of human trafficking and what steps people can take to address the issue. Stop Traffic, the anti-human trafficking student organization at the University of Missouri; the Central Missouri Stop Human Trafficking Coalition; the Not For Sale Campaign; and other local organizations will sponsor events during the week.
Human Trafficking Awareness Week will feature a variety of events, including a fair-trade bazaar, discussion panels, speakers and a dance marathon. The complete schedule is attached. 
Human trafficking is the movement, purchase and sale of people for the purpose of modern day slavery. There are an estimated 27 million people enslaved in the world as forced laborers, domestic servants, sex slaves and more. According to the U.S. Department of State Trafficking in Persons Report, an estimated 14,500 to 17,500 people are trafficked into the United States every year.
WHO: All events are free and open to the public unless otherwise noted.
WHEN & WHERE: Sept. 19-24, various Columbia locations, see attached schedule for specific event times and locations.
Saturday, Sept. 19
Recreate: Making Art at Douglass Park
12:30 to 4 p.m.
Douglass Park, 400 N. Providence Road
A no-strings attached, family-fun event with barbecue and entertaining games for children. 
For questions, contact:
Kristi Turner, shelter director and clinical coordinator of Rainbow House(573) 474-6600
Kturner@rainbowhousecolumbia.org
Bobby Schembre, Rainbow House
(314)210-6088
Bobby@karischruch.org
www.karischurch.org
 
Fair Trade Bazaar
10 a.m. to 8 p.m.
Mustard Seed Fair Trade, 25 S. Ninth Street
The Mustard Seed will transform into an international marketplace, showcasing products from India, Peru, Haiti, Guatemala, Mexico, Ghana and other countries. In partnership with Global Market, First Christian Church and Not For Sale.
For questions, contact:
Jessica Canfield, executive director of Mustard Seed Fair Trade
(573) 449-6166
info@mustardseedfairtrade.org
www.mustardseedfairtrade.org
Dance Marathon
6 p.m. to 2 a.m.
Cherry Street Artisan, 111 S. Ninth Street
Stop Traffic will host a dance party to support the education and awareness of human trafficking and modern-day slavery across the globe and to learn more local anti-human trafficking organizations. The kitchen will remain open until 11 p.m. There is a $5 suggested donation for this event.
For questions, contact:
Shannon Montanez, Stop Traffic co-chair
(847) 567-0373
Deb Hume, sponsor
(573) 884-3757
 humed@missouri.edu
 
Sunday, Sept. 20
One Big Sunday
9 a.m. and 10:45 a.m.
Christian Chapel Church, 3300 S. Providence Road
ONE BIG SUNDAY is a chance to help end modern-day slavery around the world. Prizes, 'Lunch on the Lawn' following the morning services, and 'One Big Sundae' for your kids will also be featured at this event.
For questions, contact:
Caleb Rowden, Worship and Creative Arts Director at Christian Chapel
(573) 442-2258
www.onebigsunday.info/Home.html
Underground Church Network (Inaugural Gathering) 
6:30 p.m.
Christian Chapel Church, 3300 S. Providence Road
The Underground Church Network is created in the belief that people of faith have a special role to play when it comes to abolition of human trafficking. The National Co-Directors of the Underground Church Network will host a night of inspiring worship, heart breaking truth and life-changing victories. 
For questions, contact:
John Battaglia, lead pastor of Christian Chapel and Missouri director of Not For Sale
(573) 449-6166
johnb@notforsalecampaign.org
http://www.notforsalecampaign.org/action/underground-church-network/
Monday, Sept. 21
Business Round Table Gathering
6:30 p.m.
The District Office, 9 S. 10th St.
An event organized by the Central Missouri Stop Human Trafficking Coalition (CMSHTC) to share how business owners can be proactive to help end modern-day slavery. This event is intended to generate an open dialogue about how human trafficking affects consumers and business owners daily. The round table is open for all business owners to attend.
For questions, contact:
Elizabeth D'Agostino, CMSHTC board member
(573) 489-0424
dagostino.elizabeth@gmail.com
http://cmshtc.wordpress.com
 Wednesday, Sept. 23
Movie Night with Stop Traffic
8 p.m.
Memorial Union, University of Missouri campus
Stop Traffic Now hosts a screening of Born Into Brothels, directed by Zana Briski and Ross Kauffman. Two documentary filmmakers chronicle their time in Sonagchi, Calcutta and the relationships they developed with children of prostitutes who work the city's notorious red light district.
For questions, contact:
Brittany Heenan, co-chair of Stop Traffic Now
(816) 805-9585
Brittany@stoptrafficnow.com           
www.stoptrafficnow.com
Thursday, Sept. 24
Working with Victims of Violence in Immigrant Communities – Linguistic and Cultural Issues
9 a.m. – 12 p.m.
212 Parkade Center, 601 Business Loop 70 W
Presentation by Barbara Bogomolov, director of Refugee Health and Interpreter Services at Barnes-Jewish Hospital. The services include a multicultural team of nearly 30 interpreters, a women's health coordinator and a nurse. The team provides services to patients and their families through at least 32,000 encounters each year in more than 60 languages. This event is sponsored by CMSHTC, Centro Latino and Morning Star Counseling Center.
For questions, contact:
Deb Hume, CMSHTC co-chair
(573) 884-3757
humed@health.missouri.edu
http://cmshtc.wordpress.com
Hot Button Topic Thursday: Human Trafficking
7 p.m.
Carpe Diem, 807 Locust Street
Learn more about human trafficking and what can be done to help end modern-day slavery in Central Missouri. Registration is required and seats are limited. 
To register, contact:
Dianna Long, co-founder of Carpe Diem
(573) 268-5989
info@carpediemcolumbia.com
www.carpediemcolumbia.com
--30--