Mizzou partners with Moberly Area Community College for "Mizzou Connection Program"
September 18th, 2009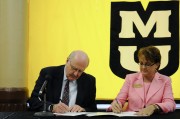 COLUMBIA, Mo. – For many students, attending a community college for an associate degree and moving on to a university to earn their bachelor's is an attractive alternative to jumping straight into a four-year institution. Of the University of Missouri's almost 31,000 students, 1,400 are transfer students from community colleges. MU is hoping to facilitate this path through higher education. MU and Moberly Area Community College (MACC), a local two-year institution with campuses in Moberly, Kirksville, Hannibal, Edina, Columbia and Mexico, Mo., will develop a transfer plan called the "Mizzou Connection Program."
"There are many paths to an MU education," Provost Brian Foster said. "One may of course begin at MU, but one may begin elsewhere and transfer to MU to complete a degree and, for that matter, go on to graduate and professional degrees. It is critical that we serve the needs of Missourians with such transfer options, and it's important that transfer students receive the highest level of advising and other kinds of support."
The goal of the Mizzou Connection Program is to strengthen the relationship between MACC and MU and provide resources, such as early MU academic advising and information about campus activities while still at MACC, to increase the likelihood of students' success post-transfer. After they are accepted into the Mizzou Connection Program, students will be assigned to an MU academic adviser who will provide a transfer plan that allows the student to choose coursework from MACC that will best fit the requirements of their major at MU, easing the credit transfer process. Students will have opportunities for early registration and orientation. MU will assign a contact person for each of the three MACC campuses initially participating in this agreement: Moberly, Columbia, and Mexico. These contacts will regularly visit MU.
"We are very pleased to have established this agreement with Moberly Area Community College," said Ann Korschgen, vice provost for enrollment management. "It will help ensure that students who transfer from there to MU are provided timely assistance that will help them excel at MU."
Each semester Mizzou Admissions personnel and the MU transfer coordinator will host a "Mizzou Connection Day" that showcases the benefits of the program and resources that will be available to students. On this day, students will be able to meet with their appropriate MU academic adviser who will assist in making a transfer plan for the students' future coursework.
For than 50 degree programs will be available to Mizzou Connection Program students through the College of Agriculture, Food and Natural Resources; the College of Arts and Science; and the College of Human Environmental Sciences. Programs not included due to their selectivity or other factors include business, communications, education, engineering, health professions, journalism and nursing. Eligible students for the Mizzou Connection Program must have a cumulative GPA of a 2.0 and hold an associate degree, or maintain a cumulative GPA of 2.5 and earn at least 24 credits.
--30--