Rebecca Johnson to lead International Association of Human-Animal Interaction Organizations
September 20th, 2010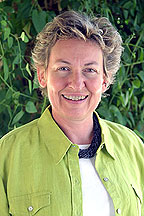 COLUMBIA, Mo. – A University of Missouri professor has been named president of the international society that advances the understanding and appreciation of the link between animals and humans.
 Rebecca Johnson, associate professor in the University of Missouri Sinclair School of Nursing and the College of Veterinary Medicine and director of the Research Center for Human-Animal Interaction (ReCHAI), was named president of the International Association of Human-Animal Interaction Organizations (IAHAIO) at the triennial conference in Stockholm, Sweden.
 At the University of Missouri, Johnson's innovative work has drawn attention to the powerful bond between people and pets. Johnson's research has included "Walk a Hound, Lose a Pound," which studies the link between improvements in physical activity for local shelter dogs and their walkers; physical activity and health in older adults through dog walking; the role of dog walking in enhancing adoptability of shelter dogs; and a new project funded by the WALTHAM® foundation, the University of Missouri Research Board, the Pedigree Foundation and the Banfield Charitable Trust that pairs combat veterans with shelter dogs for exercise and training.
 The IAHAIO was founded in 1990 to bring together national associations and related organizations interested in advancing the understanding and appreciation of the link between animals and humans. It fosters scholarly inquiry and practice in human-animal interaction through networking, information dissemination, and a triennial international conference. 
 For more information on ReCHAI, visit www.rechai.missouri.edu
--30--